Consumables for pad printing
Do you need a printing pad for a special print, or print-ready ink in a bottle? We have all the consumables you need for your pad printing in our warehouse. And we can create customised solutions to perfectly work with your printing business.
In-house manufacturing of printing pads
Our in-house manufacturing of silicone printing pads enables us to shape them according to your specific needs. There are no restrictions on size and shape – we'll produce the correct printing pad regardless of what the product looks like. We have a large number of finished models to start from, but we also make customised printing pads to suit your product.
Order:

+46 (0)33-22 21 60
In-house manufacturing of cliché plates
The cliché plate is the most critical component in pad printing, where etching depth, material quality and design placement are of utmost importance. And with more than 35 years of experience, we can say with a clear conscience that we are European leaders in cliché plate manufacturing of the highest quality. In our range you will find everything from 0.25 mm etched standard cliché plates to 10 mm lepped cliché plates made of steel, polymers (plastic), ceramics or lasers. We adapt them according to your wishes in terms of design, depth, printing speed and the type of machine. We then deliver the desired quantity to your facility.
Cliché plates in various sizes and hole patterns, etched or unetched:
0.25 mm standard and lepped
0.5 mm standard and lepped
10 mm standard and lepped
Plastic clichés for etching with water and alcohol.
Ceramic clichés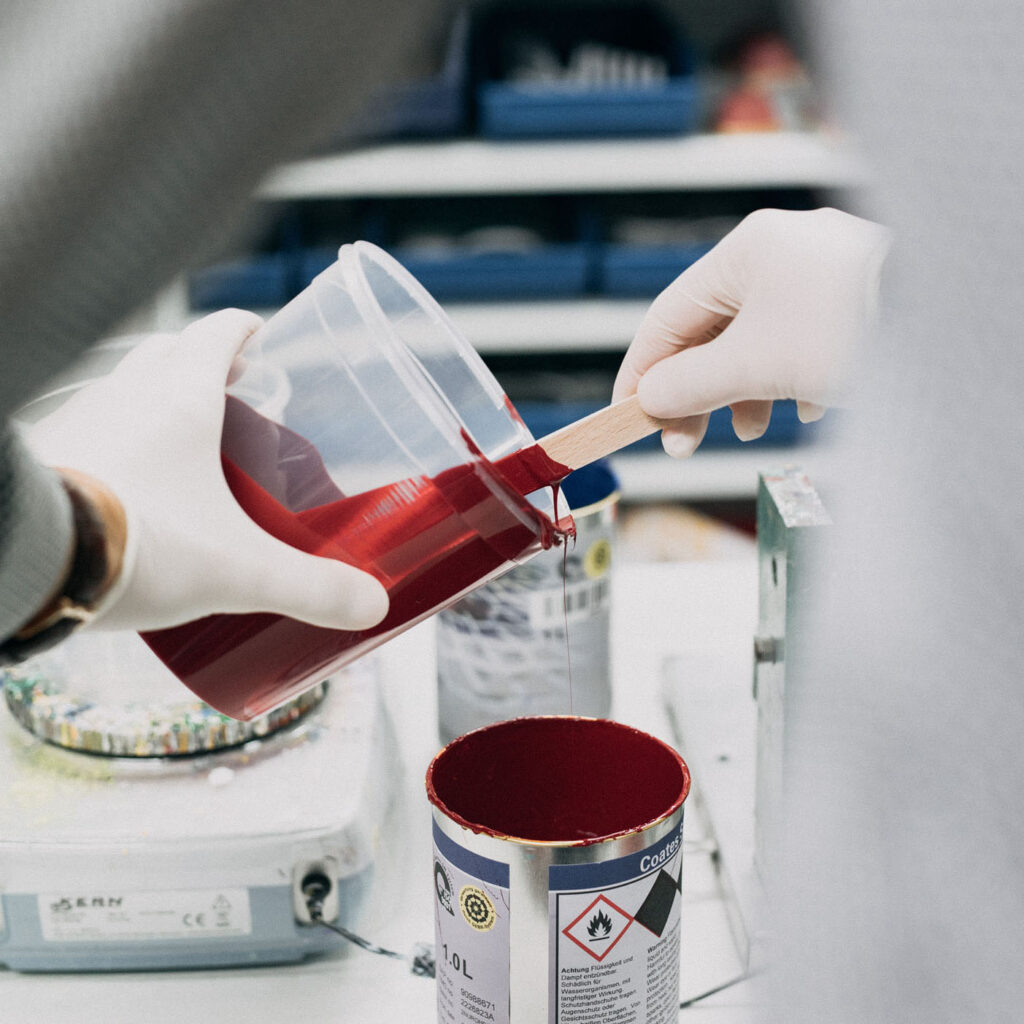 Mixing print-ready ink for pad printing
Our aim is to make it as easy as possible for you throughout your printing process, so you can focus on your business. That is why we always offer print-ready inks that you can pour directly into your machine. We are the only ones in the market doing that. Regardless of production, material and desired result, we help you to produce the right shade, with everything from standard mixtures to unique combinations and effects, regardless of the type of colour scale you use.
Because we mix the inks ourselves, we can adapt the amount of ink in a container so you get exactly as much as you need, from 35 g to a lorry load. This also means that we can adapt the amount in order to run a shift, and if you need hardeners, we can prepare a small sprayer with the right amount for the shift too. Everything to make it easier for you.